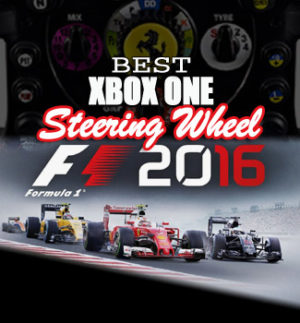 F1 2016 on Xbox One is a great Formula 1 sim racing game. To truly experience the feeling of a pro F1 race car driver you need the right racing wheel, pedals, and cockpit for the game.
There are a lot of different brands to choose from for these products and you can create a sim setup for anywhere between $100 and $3,000.
Most sim Formula 1 style cockpits are what make the prices of these sim rigs expensive, so today I am gonna show you the Best F1 2016 racing setup for Xbox One that's gonna fall somewhere in the mid price range.
What You Need For an Xbox One F1 Setup
For a great F1 sim experience you will need a wheelbase motor, a pedal set, an F1 style racing wheel, and an F1 cockpit.
There are packages you can buy where you get a wheel and pedal set all together, like the Fanatec Xbox bundle ($1,400) or the Thrustmaster TX leather bundle ($469), but the problem is neither come standard with a Formula One rim.
I'm gonna show you the exact components for a sim setup like the one below so you can just purchase the exact products you need.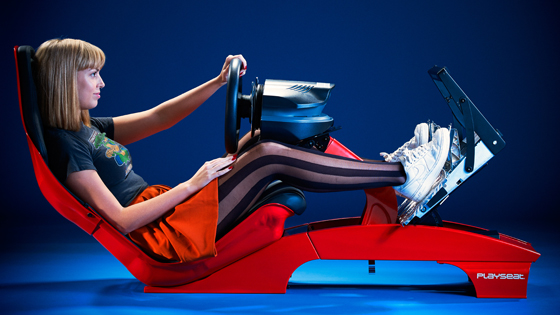 Only thing different from whats pictured above is the rim. She has a round rim…we are gonna get a Formula 1 style rim. Here are the products you need…
Thrustmaster TX Wheelbase ($259)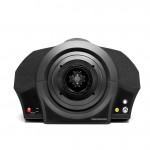 The TX wheelbase, also called the servo base, is the main part that powers your racing wheel and delivers you force feedback and vibration. The TX wheelbase is considered a mid priced option and it works great with the Xbox one and PC.
It offers multiple degrees of rotation (up to 900), but for the F1 2016 game, you will want to set it to 330 degrees.
The TX wheelbase is the heart of the Thrustmaster eco-system. It's compatible with both sets of T3PA pedals (Pro and Wide), All Thrustmaster add-rims, the TH8A shifter (which you dont need for this setup), and mounts to almost all the popular cockpit brands.
This is the wheelbase that powers all the TX wheels, which is my most recommended wheel for console gamers. Read more about it here.
Thrustmaster T3PA Pedals ($100 – $150)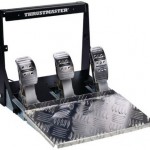 The T3PA pedals come in two different options, Wide $100 or Pro $150. Both pedal sets work great for this setup because they come mounted Formula 1 style and they also have a progressive brake mod for simulated brake pressure. They also both have a throttle, brake, and clutch pedal.
The Wide pedal set is a good choice if you are on a budget, but the Pro set (shown on the right) has more options and is a higher quality.
With the Pro set they can be inverted to GT style, they come with two different options for brake stiffness, and they are mostly made of metal. The set weighs about 20lbs and also has metal foot rest. Read more about it here.
Adding an Optional Loadcell Brake ($179)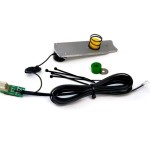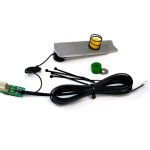 Why I particularly like the pro pedals for F12016 is you can get a Load Cell Brake Mod from Ricmotech which adds a significantly more realistic race car style brake…it will also reduce your lap times.
The loadcell can be purchased separately for $179 or you can get the Pro Pedals with the loadcell installed which Ricmotech will do for free. Read more about it here.
Thrustmaster Formula One Racing Rim ($150)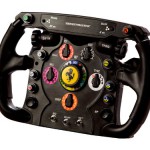 This racing rim by Thrustmaster was designed as a replica of the 2011 Formula One Ferrari rim. It has two D-pads, and working buttons and switches. This is by far one of the coolest looking racing wheels you can get for open wheel racing.
There are no other rims that capture the look and feel of a real race car quite like this without spending $400 on a mod rim. For racing on your Xbox One, this rim comes in with just the right feel at just the right price.
It is a nice wide rim and looks fantastic in your hands when you are going 200 mpph. All my friends who come over to race always want to use this rim because of how real it looks.Read more about it here.
Playseat Formula 1 Cockpit ($1,400)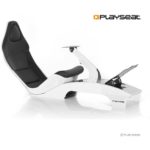 The most important piece of this custom setup for the game is also the most expensive. The F1 racing seat from Playseat, takes the shape of a real open wheeler racing cockpit. It puts you in the perfect Formula 1 driving position with your but low to the ground, your back titled slightly and you feet off the ground.
You can actually get this cockpit in red, white, black, or even the Redbull branded edition if you search on Amazon.
Playseat also makes GT bucket style racing seats which are less expensive, but this one captures the essense of Formula 1 racing. It looks really sleek and has lots of adjustability to maneuver the wheel and pedal set to accommodate for people of different heights. Read more about it here.
Cost of an Immersive F12016 Sim Racing Experience
If you want to bring an Xbox racing setup like this into your house it would cost $1960 bucks (without the load cell mod). As a less expensive option you could also downgrade the pedals to the Wide set and spend around $1860. If you were to compare this to mounting the Fanatec racing wheel on the Playseat, it would cost $2,900 after you added a Formula One rim.
Another thing worth noting about this simulated racing setup is that all these products are compatible on PC. So if you are playing any open-wheel racing games like rFactor or iRacing on PC, this setup will be perfect for those as well.
Sim Racing Products For The F1 2016 Game
Have you played on an F1 2016 on the Xbox One yet…If so what do you think? Do you have the best F1 2016 Racing Wheel Steeings? let me know in the comments.