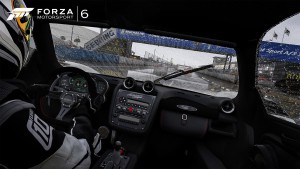 I've been getting lost of emails this week about "What are good in-game steering wheel settings for Forza Motorsport 6"?
So far what I have found is that the same exact settings I used in Forza 5 for the Thrustmaster TX, The Thrustmaster VG Spider, and the Mad Catz racing wheel feel really good in Forza 6.
These settings should also be viable for the Logitech G920 and serve as good baseline for other racing wheels like the Thrustmaster TMX as well.
Ok, lets get into the steering wheel settings and if you want to know a bit more about them, read on…
Forza 6 Settings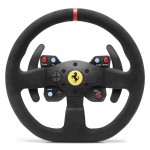 These are the exact settings I use and they should be good regardless whether you race with assists on or off. While I have tested them on the Spider and Mad Catz Wheel, I predominantly race with the Thrustmaster TX with the T3PA pro pedals with a load cell brake mod, the 599XX Evo Rim, and the TH8A shifter with a short shift mod kit.
Even if you don't like the settings as is, hopefully they can serve as a good baseline to get you started.
Where to Access The Advanced Wheel Settings
To access the settings: go to the controller/wheel menu. Click your "X" button to access the advanced settings for the wheel. These settings will work with any wheel configuration you like. I like the default layout: "Layout 1".
Steering Wheel Settings:
Steering Axis Deadzone Inside: 0
Steering Axis Deadzone Outside: 100
Acceleration Axis Deadzone Inside: 0
Acceleration Axis Deadzone Outside: 100
Deceleration Axis Deadzone Inside: 0
Deceleration Axis Deadzone Outside: 100 *See Pro Tip Below
Clutch Axis Deadzone Inside: 0
Clutch Axis Deadzone Outside: 100
Handbrake Axis Deadzone Inside: 3
Handbrake Axis Deadzone Outside: 100
Vibration: 100
Force Feedback Scale: 80
Wheel Rotation: Varies by car and preference
Notes for Adjustments Based on Your Setup
These are the exact setting that I use and the only setting I ever adjust is wheel rotation. For example, If I am driving an F1 car, I drop the rotation down to 360 degrees, for drifting I like any rotation over 500, and for everything else I typically I use rotations between 330 and 540. I also tend to like heavier Forcefeedback…if it's too strong for you or you are using a custom made add-on rim dial it down to 60.
If you have the Thrustmaster F458 Spider, the vibration, rotation, and clutch settings you can ignore because the Spider doesn't have those capabilities. Everything else should apply though.
I find that these settings combined with a sound race strategy and the Ross Bentley Driving Fast Book, help me get faster lap times in Forza 6 without even tuning.
What Do The Advanced Steering Wheel Settings Mean
When it comes to the Forza 6 setting you need to understand the terms inside, outside, and deadzone.
What does "Inside" and "Outside" mean?
Inside refers to the start of the input, while outside refers to the end of the input.
Pedals – Inside and Outside
For example with the pedals your "Inside" is the pedal when it is not pressed. Outside is the pedal when it is fully pressed.
Steering Wheel – Inside and Outside
For steering settings, "inside" refers to the wheel when it is centered and "outside" is the wheel fully turned.
If you were to set your inside steering axis to 50, you would have to turn the wheel 50% before your car even turned.
What is Deadzone?
Deadzone allows you to set an area of input where the game does not register your actions.
For example, if you set your accelerator axis deadzone inside to 50, you would have to push your accelerator pedal down 50% of the way before your car would even move. If you set your deadzone axis outside to 50, you would only have to push the accelerator down 50% to obtain maximum acceleration.
In the example below the deadzone outside is set to 50. This means when you push the accelerator 50% down, you are at full throttle. The pedal can still be physically pushed all the way down, but after the 50% of it's total throw it is already fully engaged.
Why Would You Want Deadzone?
Setting some deadzone in certain inputs allows you to shorten the field of throw.
For example, I like to quick tap my clutch. I don't want to have to push it all the way to the floor for it to register a 100% engagement. That is why I set my outside deadzone to 25. Essentially when I push the clutch down I don't need to get it all the way to the floor to make a shift! This allows me to shift faster by doing a quick tap of the clutch.
Pro Tip: I use a load cell mod kit. If you use a stock brake pedal or conical brake mod try setting your brake decleration deadzone to 90
Some people like a little deadzone (5-10) on the inside of their steering, so that they can wiggle the wheel and have some play. I prefer 0 and keeping the wheel very sensitive to my turning inputs. Every degree I cut the wheel makes the car turn in the game.
Other Settings Outside the Game
If your wheel allows you to adjust the rotation on the wheel itself leave it set to 900 degrees rotation and only adjust the wheel rotation in the game settings. I personally think it's easier to manage in game.
Brake Mods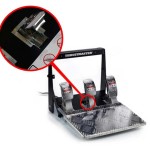 If you are using the T3PA Pro pedals or the T3PA Wide pedals, I suggest using the rubber conical brake mod set fairly tight (about 75%). I find this emulates the best progressive brake pressure, but again a load cell on the T3PA Pro's is more ideal for a better feel.
If you are not familiar with the load cell mod kit (pictured on the right) it can help shave seconds of your lap times by severally shortening your braking distances and reducing the amount of times you lock up the brakes. Its only for the T3PA Pro pedals though.
Shifter Mods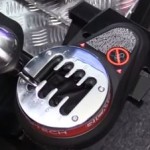 If you have the Th8A shifter, I use only the H pattern plate. I have it set up attached to my Playseat Evolution on a 15 degree vertical angle facing the TV and then a 10 degree horizontal angle towards my seat. I find this creates a comfortable arm angle for shifting efficiently. To reduce the n your TH8A you can add a short shift mod kit, which will reduce your time between shifts and make your shifter gear more like a high performance car with a short throw.
Forza 6 Steering Wheel Settings Wrap Up
Overall I think the same settings we used in Forza 5 work perfectly in Forza 6. I have put up some of my best lap time with these settings so if it ain't broke don't fix it. If you want to see all of the pieces in my Xbox racing setup, you can check it out here.
Check Out Racing Accessories at Amazon
What are your thoughts on these settings and what settings are you using and why? Let me know in the comments below.