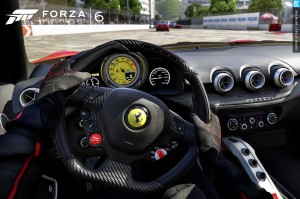 Forza Motorsport 6 is meant to be played with a steering wheel.
If you are playing with a controller you are missing out on the simulation and immersion that Turn 10  has laced this game with. I have been racing Forza games with a wheel ever since Forza Motorsport 4 and every game title gets more simulated.
So if you are in the market for a steering wheel to truly experience the simulation of Forza Motorsport 6 we got you covered here…
These are the best three choices:
Choice #1 for Forza 6 – Thrustmaster TX ($450)
The Thrustmaster TX Steering wheel and pedal set was released just after Forza 5 in 2013 as tge F458 Italia Edition, but has since been upgraded to feature a 3 pedal set and leather rim. Forza 5 was incredible with the TX and despite 3 brands of wheels hitting the market in the last few months none have yet to de-thrown the king.
"This wheel delivers force feedback strong, quiet, and accurate, plus gives you enough vibration to make you feel like you're on a roller coaster if you crank up the settings"
Forza Motorsport 6 is the closest thing on a console to a driving simulator, when you are playing in conjunction with the TX, you can feel the cars getting loose, the brakes locking up, and the wheel fighting you for control of the car. You will feel and sense every hydroplane in your hands now that Forza has finally added weather to the game.
Like Forza 5, Forza 6 will offer you the ability to fine tune your steering wheel adjustments for deadzones, vibration, force feedback, etc.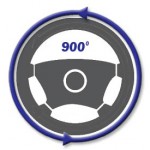 This wheel also offers the best rotation options of all the wheels on the market, allowing you to choose a rotation between 270 and 900 degrees. For me I like a short rotation similar to an F1 race car (270 degrees), but for those of you who like to drift are gonna want to crank up the wheel rotation..
The TX racing wheel will feel very natural with Forza Motorsport 6 and really make it feel like your sitting right in the cockpit of a race car. The pedals have a nice natural resistance and come with a gas, brake, and clutch. The car shifts by using the metal paddle shifters on the wheel just like a real Ferrari F458.
The TX can be mounted to a table, a wheel stand, or a racing cockpit. If you are looking at mounting it to a wheel stand this is the one it is compatible with.
"Hands down the Thrustmaster TX is the best wheel choice for Forza 6, plus this thing is primed for upgrade options"
The Thrustmaster TX was built with an eco-system in mind. Here are some nice eco-system add on's that will take the Thrustmaster TX to the next level…
Thrustmaster 599XX EVO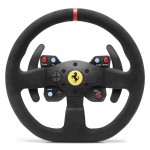 This is the largest diameter rim of all the Thrustmaster add-on's. It is completely wrapped in Alcantara imported from Italy and delivers the force feedback beautifully threw a solid steel wheel rim inside. The center column is made of metal and has 6 assignable buttons, a d-pad, a 3 way switch, and brushed metal paddle shifters. Read review.
Thrustmaster T3PA Pro Pedals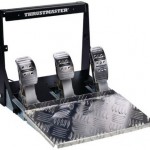 These pedals are a huge upgrade to the stock TX pedals. They are super adjustable from inclination to pedal spacing and able to be switched from F1 style and inverted into GT style. These pedals are 15 lbs of metal and are built to take a beating. It also has a progressive brake and 3 options for how you like your brake pressure. Read Review.
Thrustmaster TH8A Shifter

This shifter is 90% metal and really adds to the immersion experience. It comes with two shifter plates and allows you to switch between an H pattern shifter and a sequential shifter. One of my favorite features is has a universal stick shifter knob, so you can throw your own personal touch on it. Read review.
Playseat Evolution

While mounting the steering wheel to a table is fine, putting it on a cockpit is even better. This cockpit has all of the holes and mounting plates you need for the Thrustmaster TX. Once you add a racing seat like this and you get your arms and feet into a racing position, the lines between gaming and reality start getting pretty blurred. Read review.
You've Got Options
Thrustmaster has released a few different versions of the TX, ranging in price and options. My best recommendation is the Premium Leather Edition, which comes with a 3 pedal set, but you could save a few bucks and get the F458 Italia Edition which has 2 pedal set, or just but the Servo Base and add whatever components you want.
My Final Opinion on The Thrustmaster TX for Forza 6
The Thrustmaster TX is unique to the steering wheel market simply because of the eco-system options it offers. This is what is gonna make your FM 6 experience unreal…adding on the peripherals to the steering wheel. With Forza 6 having 450+ cars, the TX options are very customizable to the car you are driving. The stock TX rim and pedals are good, but if you are looking for more bang add some of the above options.
Choice #2 for FM6 – Thrustmaster TMX ($200)
For my second choice for FM6 racing wheels is the Thrustmaster TMX force Feedback steering Wheel. The TMX is considered an entry level racing wheel, but boasts some nice features for a wheel at this price point. The TMX features a belt and pulley mechanism to create a nice force feedback effect. The wheel motor is smooth and quiet, but doesn't pack the same strength as the TX, but its solid none the less. I really like this wheel with Forza 6 because it does a good job giving you the feel of the road and I think it's priced perfect for a console wheel.
The TMX steering wheel has a 2 pedal and you can adjust the wheel rotation from 270 to 900 degrees. The wheel doesnt have any latency and FM6 reacts quickly to all your steering inputs. The 2 pedal set is not nearly as good as the TX Leather Edition pedals, but it does feature a progressive brake.
"The TMX is GREAT for Forza Motorsport 6 for any level of racer…casual to soon to be sim driver"
The TMX Steering Wheel is Upgradable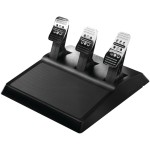 The TMX isn't as feature rich as the TX, but it does have some great upgrade choices. You can add a thrustmaster 3 pedal set (T3PA Standard Wide set) or Pro Pedals) and the TH8A 7 speed shifter.
The thrustmaster TMX rim doesn't swap out though. It is compatible on the PC.
TMX Options for Mounting
The wheel comes standard with a table clamp, but it also has pre-drilled holes for mounting on all the popular wheel stands and cockpits.
My Final Opinion on The Thrustmaster TMX
The Thrustmaster TMX Steering Wheel is a solid wheel at a great price. I love that it's upgradeable so it gives you room to grow and decide later if you want to add on a clutch and/or shifter. Forza is a simulated racing game and the TMX delivers the feel that Turn 10 intended. My best recommendation for the TMX is to add on the T3PA wide pedal set, which takes the total to around $300.
Choice #3 for Forza 6 – Thrustmaster VG Ferrari Spider ($90)
If you are on a lite budget of $100 or just looking to get a simple wheel to Play Forza 6 the third best option is the Thrustmaster VG F458 Spider. The spider doesn't offer the eco-system upgrades like the TX, but it is an outstanding product for under $100.
This steering wheel on Forza 5 was pretty solid and certainly gave some nice pull on your arms. The Spider uses a pulley bungee-cord system as it's force feedback mechanism, which isn't quite the same as force feedback, but it gets the job done.
With the improved game physics in Forza 6 this wheel feels even better than with Forza 5.
This wheel also doesn't have vibration, however the other wheels on the market at this price point don't either so you aren't missing out on anything. Forza 6 should feel pretty good with this wheel and give you a nice understanding of how your car is behaving on the track.
For under $100, the VG Spider is a great driving wheel choice for FM 6. The wheel comes with a table mount system or you can mount it on a wheel stand, click here for the wheel stand it is compatible with.
My Final Opinion on The Thrustmaster VG Spider for FM 6
Without a doubt you are not gonna find a better racing wheel than the Thrustmaster VG Spider for under $100 anywhere! This wheel delivered a lot of great driving for people playing Horizon 2, Forza 6, being more simulated with the car physics will make this wheel feel even better.
Best Forza 6 Steering Wheel and Pedals Wrap Up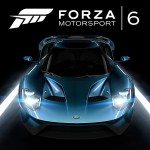 Without question, no matter which wheel you choose it will always be more simulated and immersive than playing with a controller. Above are your 3 best options for racing wheels on that market as of the summer of 2016, and really if you upgrade the TX or the TMX there isn't much on the market that can beat these wheels for the price.
The other options for steering wheels you have are the Mad Catz Racing Wheel ($400) and the Hori Racing Wheel ($80) both will work with Forza Motorsport 6, but fall short in many aspects.
If you are interested in a full immersion race simulator setup of how I plan on racing Forza Motorsport 6 on the Xbox One, check out the best Xbox racing setup. If you want to create a completely immersive driving experience in Forza 6 or any other racing game, you can add vibration to your cockpit. Adding vibration is a game changer and will make you feel every rumble strip you roll over.
If you want to learn more about Forza 6, you can check out:

17 Tips for Faster Lap Times In Forza Without Knowing How To Tune.
Forza 6 Steering Wheels At Amazon and Other Related Items
Do you own a racing wheel? Which one do you have and how does it feel with your racing games? Let me know in the comments