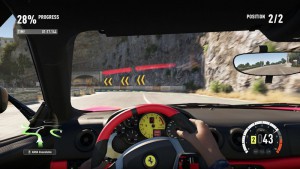 Are you playing Forza Horizon 2 with a controller?
You are missing out on the simulation and immersion that Horizon 2 has with an Xbox Steering wheel. Turn 10 and Playground Games made this game so that the steering wheel reacts like a real race car!
"If you really want to feel if bit of your brakes locking up, over steer or under steer, and your tires skidding through a drift; a steering wheel is a must own!"
Currently there are a few Xbox One racing wheel choices on the market ranging from about $80 – $400, but which steering wheel handles the Forza Horizon 2 game the best?
These are the best two choices:
Choice #1: Thrustmaster TX ($450)
No Question, the Thrustmaster TX is the top steering wheel for playing Forza Horizon 2 on an Xbox One console. The TX wheel delivers the force feedback accurately, strong, smooth, and extremely quiet!!
Despite the fact that Horizon 2 is an arcade style racer and the car physics handle fairly loose, using the Thrustmaster TX has such a true feel that you can sense the cars losing grip or hitting heavy bumps in the tracks or off road. Horizon 2 also offers the ability to customize your wheel settings a bit by choosing deadzones and adjusting the amount of force feedback and vibration that you like.
For me I like it fairly strong with a short rotation (270 degrees), but that's up to you. The TX offers wheel rotation from 270 degrees up to 900. If you like to drift, which Horizon 2 is great for, then you probably will like a higher wheel rotation degree than I do.
The Thrustmaster TX, gives a great feel for the road, how the cares are truly handling, and natural race fell.
"The force feedback and vibration are truly a game changer and when cranked up feels like your fighting a bull with your arms or controlling a jack hammer!! It is awesome"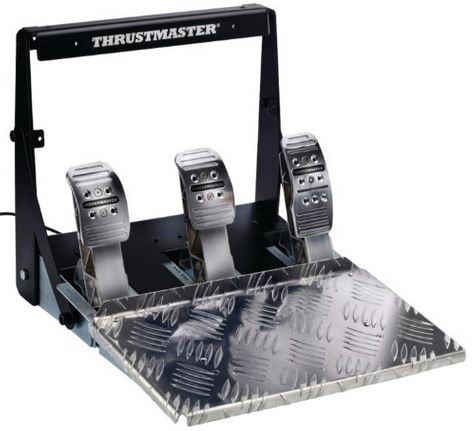 The TX is unique to all of the steering wheel completion because of the eco-system it offers. Thrustmaster built it so you can change out the rim really easily and use the Ferrari 599XX EVO or the F458 GTE Challenge rim. They also have a pedal set with a clutch called the T3PA and the T3PA Pro (shown on the right) which allows the ability to invert the pedals GT style. Both pedal sets come with a progressive brake which adds a feel of real brake pressure.
Another component you can add is the TH8A Shifter, a robust piece of equipment that really makes you feel like you are shifting gears and controlling the car.
This steering wheel mounts easily on almost all racing cockpits, wheelstands, and it also includes a clamp for table mounting. I use the Playseat Evolution, but you can also mount this racing wheel to a wheel stand (click here for the correct wheelstand).
This wheel is compatible on the PC so you also have that option as well for PC racing games.
My Final Opinion on The Thrustmaster TX For Horizon 2
The Thrustmaster TX is built solid and provides an awesome simulated racing experience for Horizon 2. The eco-system options for adding on components is what makes it better than the other wheels at a similar price point. Essentially since the Horizon 2 offers s many car choices, the TX allows you to match your racing experience to the car. The stock TX rim and pedals are great as is, but if you are looking for a more customized feel, you can simply add on new pedals, new rims, and a shifter!
Choice #2 Thrustmaster VG Ferrari Spider ($90)
The second best option is the Thrustmaster VG F458 Spider. The VG spider doesn't have the eco-system options like the TX, but it offers a great simulated experience for under $100. This driving wheel uses a pulley bungee-cord system so it doesn't use true force feedback, however it still delivers some nice resistance. This steering wheel is a great starter wheel for someone on a budget or a casual racer.
Despite the fact the doesn't have true force feedback and vibration, Horizon 2 feels really good with the VG Spider, especially because it does come standard with a progressive brake pedal. The progressive brake gives you the feel of stopping power like a real car…essentially the brake gets harder to push the further you press.
This wheel can easily be mounted to a table or wheelstand. The wheel comes with a clamp table mount system and has holes on the bottom of the wheel base for securing it properly to a wheel stand, click here for the wheel stand it is compatible with.
My Final Opinion on The Thrustmaster VG Spider For Horizon 2
So many people us the Thrustmaster VG spider for Forza Horizon 2, simply because it is super affordable, delivers an outstanding racing experience, and is perfect for casual racers looking for a more immersive experience than a controller. The Thrustmaster VG Spider is a great value for the price and is far and away the best wheel choice for under $100.
Best Forza Horizon 2 Steering Wheel Wrap Up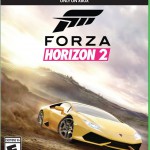 Any racing wheel you choose, honestly smashes the experiences of using a controller, you really can't go wrong. Above are your two best options for racing wheels on that market as of the summer of 2015. There are other options you have like the Mad Cats Steering Wheel ($400) and the Hori Steering Wheel ($60) both work with the Horizon 2, but fall short in many areas. The 2 Thrustmaster wheels I discussed above offer much better values and a better racing experience.
"If you really want to feel more of how your car is handling in Forza Horizon 2, plus raise your rate…a wheel is a must for Horizon 2!"
If you would like to learn more about what to look for in a steering wheel for Forza Horizon 2 check out this page here.
If you want to see a full immersion race simulator setup of how I race Horizon 2 on the Xbox One, check out the best Xbox racing setup. If you want to create a completely immersive driving experience in Horizon 2 or any other racing game, you can add vibration to your cockpit. Adding vibration is a game changer…when you are driving through the fields, you will forget that you are playing a game in your house.
If you don't own Horizon 2, read our full review here.
Forza Horizon 2 Steering Wheels and Related Items at Amazon
Do you own a racing wheel? Which one do you have and how does it feel with Forza Horizon 2? Let me know in the comments section below.