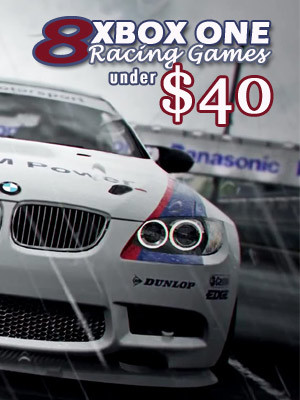 Games these days are expensive especially when you are buying Ultimate or Deluxe Editions. The standard game a starting price of 60 bucks is pretty steep considering that games like Project Cars were full of glitches or games like Need for Speed Rivals offered no racing wheel support.
Well Christmas is over and there is definitely been some time passed since the games below were released, but I wanted to call out a handful of racing games that you can grab for less than $40. Some of these games are highly rated games but are now just outdated, while others are low rated games and the manufacturers lowered the prices to entice some sales. Either way they are cheaper and you can try them out and not feel so bad if you don't love the game.
If you are looking to mix up your racing game catalog or if you are getting tired of Forza 6, the prices of these games are a bit more luring than the full price tag they had a few months ago.
Here is our list as of (Jan 2016) of Xbox Racing Games Under $40.
Xbox One Racing Games Under $40 at Amazon
For some of these games, I think the new price makes them a solid purchase. For example Need For Speed Rivals is a really fun game, but was not worth $60 on its best day. If I reviewed this game today and it was priced at $25, I would increase its rating simply because it has more value for the consumer.
Pro Tip
: If you are not sure about buying these games, check out how I get games, save money, and avoid getting stuck with bad games.
Click Here
.
Xbox One Racing Game Reviews
If you want to read our initial XRP reviews click the links below:
For these games at this price you need to buy the disc for the games. The digital download market doesn't dictate lowering the prices, because it is on demand. So when you click over to amazon to buy one of these games you will notice the low price for the disc version of the racing games, but full price of you get the digital copy. Make sure you take a look at what you are purchasing.
Of course all the prices above are subject to change and will hopefully get even cheaper as time goes on. Anyway checkout'em and see if they satisfy your racing itch, they should certainly make your wallet a little bit happier.